With this selection of pictures, we bring you only a glimpse of the many cars, motorcycles, and historical items on display at the museum. Visit us soon to discover more about our extensive collections.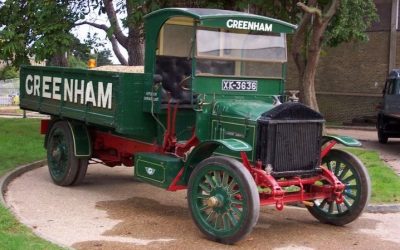 Our 1914 R7 5 ton truck is a veteran of the First World War and one of only three known survivors of the type. By the end of the War…
read more
By Car - Willingdon Rd, Dover, Whitfield, Dover CT16 2JX, UK
The Museum is located just off the A2 at Whitfield, 3 miles outside Dover, follow brown tourism signs to the museum. CT16 2JX or CT16 2HQ
Sat-Nav coordinates  N 51:09:004 & E 1:17:426
If your 'sat nav' directs you along 'Old Park Hill' please find an alternative route as this is a No Through Road
By Bus
Bus services run from Dover town centre and stop at Honeywood Road, from here walk towards the superstore, turn right into Menzies Road, then left into Willingdon Road. The Museum is located on the left.
For all bus times visit: www.stagecoachbus.com
Visiting From Overseas
The Museum is located approx 3 miles from the Port of Dover. Ferries run several times a day to and from both Dunkirk and Calais.
For ferry information visit: www.dfdsseaways.co.uk or www.poferries.com